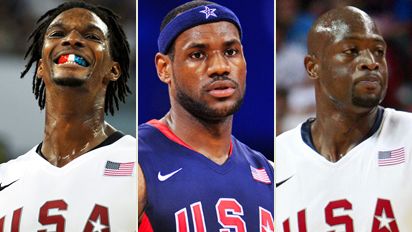 Let's take a momentary break from the Draft and focus on a few stories that have emerged over the last day or two regarding the big free agent class of 2010, which is after all, still the most significant horizon of the Walsh/D'Antoni era.
LeBron James:
Word is the Cavs are after Vince Carter.
I think Chad Ford is correct that the Cavs are in panic mode. First they allegedly target Shaq, who, at 37 is definitely in a decline and who probably won't deliver a title to Cleveland. His contract expires after the upcoming season but then what? Shaq doesn't really help short term, and the long term impact of a trade is a neutral (unless they resign him, in which case it's negative).
Then comes word about a Vince trade. This one is even worse for the Cavs long term prospects. Does anyone think that Vince Carter would've helped the Cavs beat the Magic in the Eastern Finals? Maybe they wouldn't have lost in 5 (would've been 4 if not for the game 2 miracle shot). Even if Vince could've gotten the Cavs into the Finals this year and then also gotten them past the Lakers, the guy is 32, and on the decline, just like Shaq.
Unlike Shaq though, Vince has $33.6 million left on a contract that goes through 2011. This trade saddles them with a long term deal for a declining wing and all but puts them out of the running to seriously improve in the long-term, which we all know is what LeBron wants to see.
Another rumored trade for Antawn Jamison has similar pitfalls in that there is no long-term upside.
Chris Bosh:
Sounds like Jerry Colangelo has resigned himself to losing Bosh:
What's the situation with Chris Bosh and is there a possibility he signs a contract extension this summer?

"We'll have the discussion, we'll talk about the pros and the cons, he'll most likely not sign it, and then we'll get in to next season, we'll figure out where we are.  In respect to the situation for him, there will be a handful of teams next year – I'm guessing between five and ten – which will have maximum allowable free agent money, which means Chris is subject to walk to one of those deals.  But, I have to reiterate the point that keeps being overlooked – we're the only team that can offer him a full six years versus five years, 10.5% increases versus 8% increases… Basically equates to a $30 million dollar difference.  So, even if he wants to leave, he's still better served, and we're better served if he works a sign-and-trade with us where we can get some sort of an asset back from the team that he's going to.  And, I think that's probably the thing that we'll both push for because he'll benefit from it and we'll benefit from it, and that's why it's probably not time to panic now and make a bad deal."
Seems like Colangelo sees the writing on the wall and is going to, or even has been, fielding offers for Bosh. I still think he's likely to wind up in Miami, where there is no state income tax, and has a team just about ready to compete, since it has, and will have, Dwyane Wade…probably…
Dwyane Wade:
Wade doesn't seem happy idling in purgatory after losing to a Hawks team that got throttled by the Cavs. He's growing impatient and has taken a shot across Pat Riley's bow:
A day after Heat President Pat Riley said the team could not go forward with a major personnel overhaul without his star guard first agreeing to an extension this summer, Wade indicated he might seek such action by the team before making such a commitment.

"I'm there. Why not fast track this thing anyway while I'm there and let's not give it a chance to get to 2010?" said Wade, who can extend his contract starting July 12, or can opt out an become a free agent following next season. "I'm in my prime right now, playing the best basketball I've ever played, and I feel as good as I ever felt. So let's not wait. Let's do it now if we can do it. So it's not about me signing a contract."

Riley, however, said it is about exactly that, that the Heat cannot move forward with a renovation amid uncertainty about the franchise's foundation.

Wade took a contrasting view, that an aggressive personnel approach by the team this summer could lead to his signature on an extension before his potential 2010 free agency.

"They have to do everything they can to make sure they want me there for the future," he said.

…

"I have a decision to make on my own and that decision has nothing to do with anything that anyone is going to say," Wade said. "I always have the best interest of the basketball team every time I take the court. But in this stage, where you're talking about contracts and free agency, you have to think about yourself and what's best."
Is Riley going to risk losing Wade by sitting on his thumbs? Is Jerry Colangelo going to get a better offer than expiring deals, draft picks, and Michael Beasley? (Maybe). Is a one-two punch of Bosh and Wade ultra competitive? (You bet).
One thing is for sure, neither the LeBron, Bosh, nor Wade situations are settled right now.